Lucca Style is a modern and retro inspired restaurant/cafe located in the heart of Istanbul. With a unique twist to traditional recipes, this cafe offers a fresh and delicious selection of dishes made with locally sourced ingredients. From handmade pasta to freshly baked bread, everything here is made with love. If you're looking for something healthy and delicious, Lucca Style, Bebek's best cafe, has it all! The menu features classic Italian favorites like pizza, lasagna and risotto, as well as creative specials like roasted eggplant Parmesan and stir-fried salmon.
For sweet lovers, there are irresistible desserts. Lucca Style, Bebek's best cafe, has a unique décor and an inviting and friendly atmosphere, ideal for hangouts with friends or family dinners alike.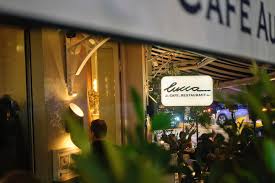 Introducing Lucca Style: Bebek's Best Cafe
If you're looking for a unique and delicious dining experience, look no further than Lucca Style. This great venue offers a range of delicious dishes to satisfy everyone's taste buds. From classic Turkish dishes to modern European dishes, this great cafe has something for everyone.
When you enter the restaurant, you will be instantly transported to another world filled with rich colors and inviting aromas. The atmosphere is warm and inviting, yet elegant enough to impress even the most discerning person. As soon as you sit at your table, the most exclusive menu options will be waiting for you. All meals in Lucca are made fresh daily using only the highest quality ingredients – so you can be sure they will always please!
Whichever you choose from the extensive menu of Lucca Style, you can be sure that every bite will appeal to your taste buds with its unique blend of flavors. Plus, the presentation alone deserves applause! Each plate looks beautiful to eat, which makes this place perfect for special occasions. They not only offer excellent food but also great service. Their friendly staff are always happy to help customize any order.
Whether you're looking for an intimate dinner spot for two or just want to spend a relaxed evening with your friends, Lucca Style Bebek's best cafe will be at the top of your list when you're looking for it! With its delicious food options, lively atmosphere and attentive service, this restaurant will not disappoint you!