Elle Decor Goes To Istanbul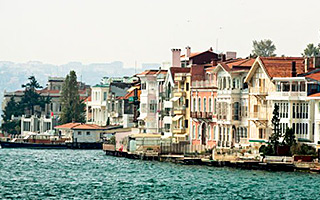 Merging east and west, mosques and modernism, traditional foods and trendy cocktails, the city delights with all its compelling contrasts
Much of the expat community prowls the leafy waterfront districts of Kuruçesme and Bebek. Lined with mansions perched over the Bosporus, the neighborhoods feature low-key but high-style retail options and casual, almost beachy restaurants.
Inland is the boutique-dense Nişantaşı, considered to be the most European shopping area and often compared to Paris's Saint-Germain. Turkish brand Vakko has several stores here, as does the retail temple Beymen, a posh purveyor of international fashion that also has an extensive home store.
In the past few years, the once seriously derelict Akaretler Row, a run of neoclassical townhouses built in the 1870s in the Beşiktaş neighborhood for the officials of nearby Dol­mabahçe Palace, has been reborn with dozens of white-hot luxury boutiques. There is also a new W Hotel with an outpost of Jean-Georges Vongerichten's Spice Market restaurant.
While Turkish food writer Osman Serim appreciates the arrival of global chefs, he also hopes that visitors will seek out dining experiences that can only be had in Istanbul. He recommends visiting pudding shops such as Saray for traditional sweets and baklava, or taking a ferry across the Bosporus to the Asian side for what he promises will be the most memorable seafood meal of your life. "The view is like nothing else in the world—and the same goes for the seafood. Istanbul has such a wealth of places that you can always find exactly what you feel like." Just as at the Grand Bazaar, in Istanbul you can have it all.
Where To Eat
Lucca, Cevdet Paşa Caddesi 51B, Bebek, +90-212-257-1255; Burgers and scrumptious pastas from 10 a.m. to 11 p.m. at the de facto clubhouse for Bebek's smart set.
You may be interested in other articles: