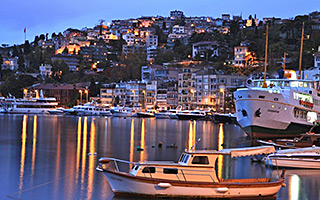 When Bebek is mentioned several things come to mind: Bebek Park, ice cream and waffle shops, the  Mosque and famous restaurants. This unique district is a favorite of the Istanbul elite as well as regular locals or foreigners who love Istanbul. The Bebek Hotel, Bebek Fish monger and the famous marzipan shop, which has been doing business since 1904, on the other hand, are the most classic and well-branded venues in Bebek. I, however, am going to write about the more modern places that make us fond of Bebek.
The entertainment center that comes to mind when Bebek is mentioned is, of course, Lucca. It is a cool and attractive venue with people sitting, standing or handing their cars to the valet in front of the restaurant located in the heart of the district. Having classy guests and a refined entertainment atmosphere, the place indeed belongs to Bebek. Recently, we have been there as guests of the owner of the place, Cem Mirap, to taste the fall menu. I particularly loved the pumpkin soup. Likewise, we had the chance to taste kale, a vegetable quite famous in the U.S. The broccoli, walnut and ricotta cheese salad was great. I normally hate broccoli, but I liked the salad. Likewise, the pumpkin risotto was also one of the flavors that suits fall.
Congratulations to Lucca for combining the culture of chilling and eating on the street with DJ music and good meals. Taking its name from a small city in Italy, the place is also a favorite of foreign celebrities. Friends and guests visiting me from abroad first ask me about Lucca. Congratulations to Mirap who has gained success in the sector by creating many valuable brands and for managing to keep the bar high. It is hard to be at the top. I wish him lots of luck.
You may be interested in other articles: